With each room in your home having its unique purpose and feel, a versatile flooring option is not always the most advisable. Determining the styles that help to accentuate the functions of each individual space in the house begins with recognizing developing trends in the flooring industry. To make a home truly one-of-a-kind, you need to appreciate some of the materials and textures that can benefit your house the most between different rooms sizes, lighting, décor, and expected foot traffic. Here are some growing trends listed by their ideal place in the house.
Kitchen Trends
Because many remodeling projects focus on revamping the look and functions of small or tired kitchen spaces, the flooring chosen for this area of the house can influence the entire room. The right choice must also be made based on the understanding that these materials experience a high amount of foot traffic and unfavorable conditions like spillage, greater humidity and temperature differentials. You should look for flooring materials that allow for these in multiple ways, including:
– Impact resistance for dropped utensils
– Wear/abrasion resistance for higher foot traffic
– Easy-to-clean materials
– Moisture resistant
– Non-porous or low porosity to prevent absorbing moisture and developing mold
A classic look is still trending heavily in kitchen remodeling, and this gets achieved with ceramic tiles. The material is easy to clean, comes in multiple styles and textures, and is non-porous to resist moisture penetration and absorption. Apart from tile, many homeowners are also considering other materials like modern linoleum products and laminates with built-in moisture-resistant cores to create a modern, clean look to a larger kitchen space. A vintage finish is chic, bringing rich colors that complement cabinetry and countertops.
Living Room Trends
Natural looks are becoming commonplace in the home. Surfaces feature less of the unnatural color hues and return to the look of hardwoods, retro styles, and sustainable flooring options. Within this line of thinking, the cork floor is beginning to see heavy use in remodeling and new construction projects, as it is one of the most sustainable flooring options available. Parquet with a traditional or French herringbone installation is a sustainable yet expensive look to add to your living room. It is a classic and intricate design that is a conversation piece on its own.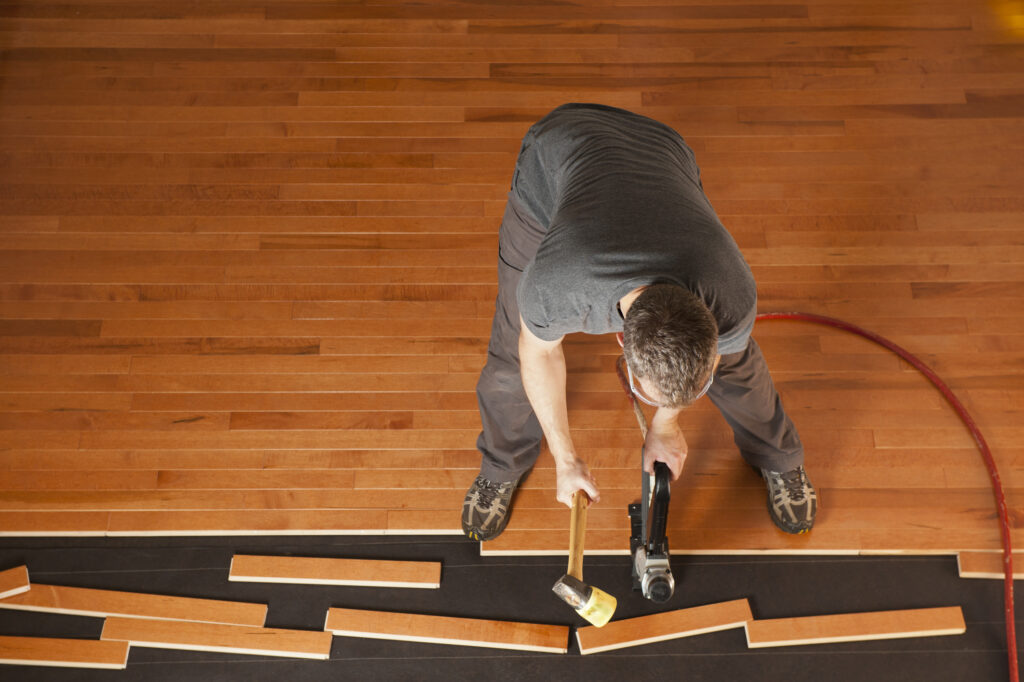 Bedroom Trends
You spent nearly a third of your life sleeping, which explains why so many have invested considerable time and money into making their bedrooms into comfortable and attractive places in the home. The objective with any of the choices made is as pleasing to look at as comfortable for bare feet.
Long pile carpeting is a popular option because of its comfort and how many shades and patterns are possible between brands. Carpeting can complement any bedroom in this fashion. Hardwoods are also a popular alternative for a beautiful look and finish without compromising the material's feel on your feet. There are hundreds of species of trees developed into wood flooring, ranging from various domestics to many exotics. Not only does wood flooring look nice, but it also has other notable features, such as:
Thermal insulation
Durability
Texture options
Bathroom Trends
Along with kitchens, bathrooms are among the spaces most likely to get upgraded and remodeled in a home. Because many of the upgrades to this room require removing the flooring, you have an opportunity to replace it with materials better suited to combat moisture, humidity, temperature fluctuations, and other concerns. Self-leveling flooring is increasing in popularity for bathrooms, though moisture-resistant laminates and ceramic tiles also provide a modern, sleek look.
Conclusion
Every room in your home is different, and with an increasing desire for homeowners to give each room a unique identity, varying flooring types can help in this aspect.