Everyone can recognize how quickly the world of fashion can change, as showcases happen multiple times a year worldwide to display the latest trends and styles. Like clothing, flooring also has trends and surges in popular vogues that can dictate the products created and the manufacturing process for various materials. Understanding what trends are on the rise can help you determine what looks work best in your home through new building projects and renovations.
Before You Begin
You must recognize that while you might love a specific style or type of flooring option on the market, it might not always be the ideal choice for your living space. What looks excellent in a large, open room, for example, might not have the same appearance in a cramped apartment space. When choosing what materials and looks will be best for your property, there are a few considerations that can help steer this course, including:
What furniture, finished materials, and lighting exists in the chosen space
The layout and function of the space
Textiles (upholstery, curtains, etc.) in the space
Top 5 Flooring Trends to Watch
1 – Antiquity Is Making a Comeback
While wood flooring never entirely went out of style, hardwoods have taken somewhat of a backseat to more affordable alternatives designed to mimic their appearance. Solid wood is practical and comfortable in a house, and this is even more trendy with various pronounced textures like hand scraping. Reclaimed and repurposed planks provides a rustic look that fits well into smaller, cozy spaces.
2 – Multiple Materials
Every room of your house has a unique purpose, so many homeowners are embracing the idea of changing the flooring for each of these spaces. Combining multiple styles and types of flooring materials might seem complicated. However, it can provide a true one-of-a-kind look to your property with elements of hardwood, laminates, vinyl, and tiling. The most popular combinations growing right now are wood and natural stone and hardwood with ceramic tiling.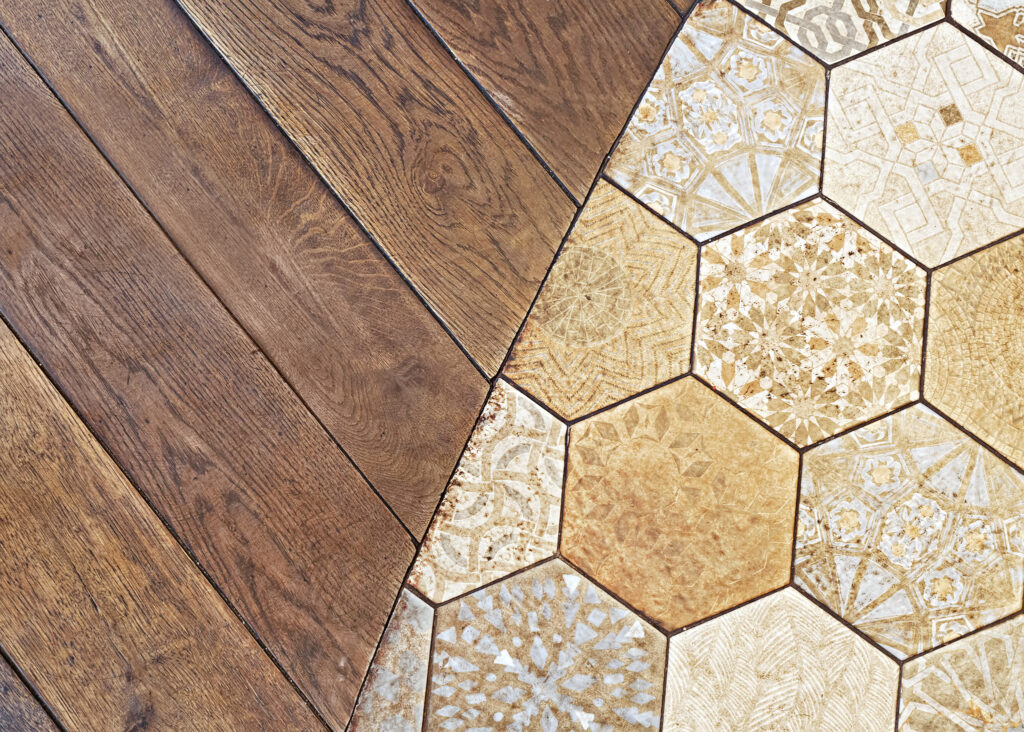 3 – Colorful Flooring
Choosing a flooring material is only part of the equation in revamping the look of the walking spaces of your home. Selecting the appropriate colors and shades can dramatically impact the final look of the project. While the options are nearly limitless, here are some quick tips that might help you know what is out there and what works well:
The combination of neutral walls and brighter floors is a classic, chic pairing
Large geometric flooring patterns accentuate smaller wall prints
Artificially aged floor coverings provide a history without a much higher cost
Ethnic interiors can be aided with the application of Greek/Moroccan patterns
4 – Tiles Have Style
Tiles are more versatile than many property owners realize. With this extensive assortment, you have options for various textures that can entirely change the room's look and feel. Some of these include wood, stone, and leather imitations. Trending practices suggest a more extensive pattern created with tiles, especially if you are going with smaller and more intricate pieces of terrazzo stylings.
5 – Attractive Parquet
You should always consider the adage 'you get what you pay for' when it comes to flooring for your home or business. While parquet is among the most expensive flooring options on the market, this comes with the understanding that it has multiple trending appearances. For example, the parquet looks refined and elegant with French or traditional herringbone installations. Best of all, the ROI (return on investment) is high with parquet installation over less expensive and recognized flooring options.